Thermaltake Introduces Thermaltake RGB Family with Three New Liquid Cooling Products at COMPUTEX Taipei 2017
Transform Your Watercooled PC into Disco with Tt RGB Family

Taipei, Taiwan-June 1st, 2017-Thermaltake, a leading brand in chassis, power supply units and cooling markets, is thrilled to launch Thermaltake RGB Family along with two most advanced liquid cooling products – Pacific RL360 Plus RGB Radiator and Pacific W4 Plus CPU Cooler at COMPUTEX 2017. These new products powered by TT Premium feature ultra-excellent quality, exceptional cooling performance and a unique 16.8 million colors LED design with addressable LEDs. The built-in LEDs can be controlled by the exclusively designed software, giving freedom to customize colors for each LED based on different occasions.

Thermaltake also showcased the latest flagship product of the coolant lineup – TT Premium Concentrate Coolant Series (Blue/Red/Green/Acid Green/Orange/Yellow/Purple/Black). This new coolant series is specially designed to be used in all water cooling systems. It is ready-to-mix, anti-corrosion and fully biodegradable concentrate that allows PC enthusiasts to customize the coolant color without compromising on thermal performance.

Thermaltake Pacific RL360 Plus RGB Radiator, Pacific W4 Plus CPU Cooler and TT Premium Concentrate Coolant Series are on display at the COMPUTEX Taipei 2017, during May 30th (Tue) – June 3rd (Sat) in TWTC Nangang Exhibition Hall (4th floor, booth number N104); we look forward to your visit!
Further information about Thermaltake at COMPUTEX Taipei 2017 is available online:
http://computex2017.thermaltake.com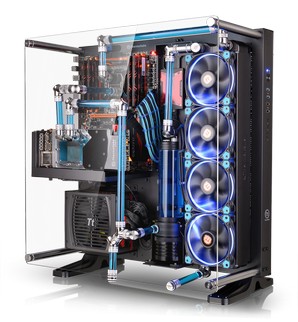 The product availability and price vary by country and region, please contact the local Thermaltake sales representative for further information.

TT Premium
To continue achieving the corporate mission of delivering the perfect user experience, Thermaltake developed "TT Premium" with the essence of combining supreme quality products with a new logo design. TT Premium is far more than just a guarantee of quality. Behind the name, it represents the passion in DIY, Modding and Thermaltake's desire to be the most innovative brand in the PC hardware market. To satisfy the demand of the high-end PC users, TT Premium follows its core values of Excellent Quality, Unique Design, Diverse Combinations and Boundless Creativity to provide a high performance PC product for every enthusiast.

Features of Thermaltake Pacific RL360 Plus RGB Radiator:
Exclusive LED Strip Design
Featuring 12 addressable LEDs sets (two single LEDs per set), great light coverage, and uniform color and brightness, the built-in LED strip can paint your build with 16.8 million colors

Optimized Heat Dispatching
The radiator is optimized for efficiently pulling heat away from the power-dissipating components thus achieving maximum heat dissipation at both low and high airflow operation. After brazing, the fin and tube connect to form a joint, thereby creating uniform heat transfer. The radiator is capable of delivering an average heating load of 32℃-35℃, bring new levels of cooling performance and reliability to any watercooled PC.

Dual-Row Tubes
To assure the best thermal capacity and increase heat transfer, the radiator is engineered with an extremely thick 64mm radiator along with a double-row 13-set flat tube design. This technique allows that water flows down on the one side, and then passes across the bottom chamber before circulating back to the other side of the radiator.

High-Density Fin Design
Fin density is optimally designed to accommodate high air pressure. The FPI (fin per inch) is 14. The performance improves significantly with increased fan speed, offering superior cooling efficiency during operation.

German-Made Anti-Corrosion Materials
Without compromise, the radiator is designed with high-quality German aerospace-grade materials and constructed with zinc, the most common anti-corrosion agent. Although this protection will gradually degrade as the zinc corrodes away over time, it provides the best means to reduce electronic conductivity and can withstand scratches to the zinc layer. Corrosion potentials of zinc alloy aluminum can be reduced by 55.6% after brazing.

High-Quality Manufacturing Process: Brazing
An exceptional manufacturing process using high temperature brazing at 1022℉/550℃ sets the radiator in a class of its own. This technique allows for impurities to be kept out of the brazing process, ensuring that full strength on all the connected areas is achieved. The radiator is baked through a controlled atmosphere brazing line. The materials melt into each other to accomplish optimal thermal transfer from the tubes to the actual fins in order to attain better heat evacuation.

Remarkable Expansion
Made for hardcore PC enthusiasts to enjoy the ultimate in custom configurations, the radiator supports 120mm fans, and allows users to build up aesthetically-superior watercooled systems by allocating the radiator to each particular component as well as incorporating externally-modular upgrades for their chassis.

Features of Thermaltake Pacific W4 Plus CPU Water Block:
Exclusive LED Waterblock Design
Featuring 12 addressable single LEDs, great light coverage, and uniform color and brightness, the built-in LED waterblock can paint your build with 16.8 million colors.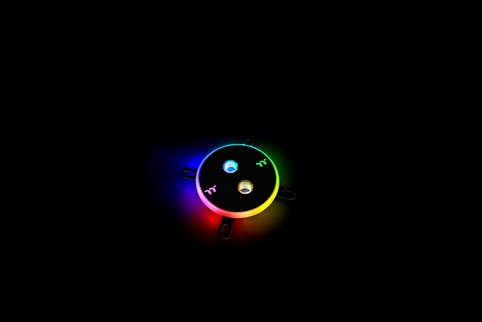 Anti-Corrosion Design with Mirror-Finished CU Base
Manufactured with Thermaltake's highest quality standards, the specially machined copper base has an absolute mirror finish with anti-corrosive nickel plating that provides exceptional heat transfer and anti-corrosion protection for the most demanding use conditions.

Optimized 0.15mm Micro-Channel Structure
Featuring a compact form factor with 0.15mm micro-channel fin construction guarantees optimal clearance and extreme heat dissipation.

No-Fuss Expansion
Designed to fit all modern CPU sockets with universal mounting mechanisms, the water block allows enthusiasts to build superior water-cooling systems from an aesthetic standpoint as well as incorporate modular chassis upgrades for the future.

Features of Thermaltake TT Premium Concentrate Coolant Series:
German-Made Anti-Corrosive Solution
Being non-flammable, the concentrate coolant is a ready-to-mix cooling solution with at least 2 years shelf life in airtight containers, providing great performance while preventing the entire cooling system – copper, brass, nickel, and aluminum – from corrosion.

Biodegradable Material
The concentrate coolant is classified in water hazard class 1 (low-rate endangering) according to German water hazard regulations. The product is environmentally friendly and readily biodegradable.

Vivid Application
The concentrate coolant suits all water cooling systems. Featuring anti-freezing, anti-rusting, and water scale prevention, it brings grogerous colors into the watercooled PC to deliver great thermal efficiency and further reduce the temperature of the system. The concentrate coolant is available in eight vivid colors (blue, red, green, acid green, orange, yellow, purple and black), and is recommended for use with Thermaltake C1000 Opaque White Coolant/C1000 Pure Clear Coolant.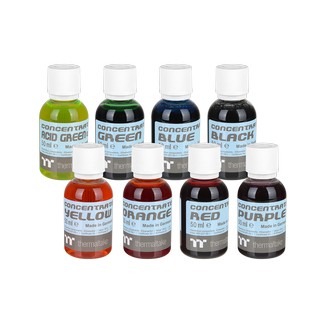 For more details on the Thermaltake TT Premium Concentrate Series Coolant, please visit:
TT Premium Concentrate Blue –
http://www.thermaltake.com/products-model.aspx?id=C_00003063
TT Premium Concentrate Red –
http://www.thermaltake.com/products-model.aspx?id=C_00003067
TT Premium Concentrate Green –
http://www.thermaltake.com/products-model.aspx?id=C_00003064
TT Premium Concentrate Acid Green –
http://www.thermaltake.com/products-model.aspx?id=C_00003061
TT Premium Concentrate Orange –
http://www.thermaltake.com/products-model.aspx?id=C_00003065
TT Premium Concentrate Yellow –
http://www.thermaltake.com/products-model.aspx?id=C_00003068
TT Premium Concentrate Purple –
http://www.thermaltake.com/products-model.aspx?id=C_00003066
TT Premium Concentrate Black –
http://www.thermaltake.com/products-model.aspx?id=C_00003062