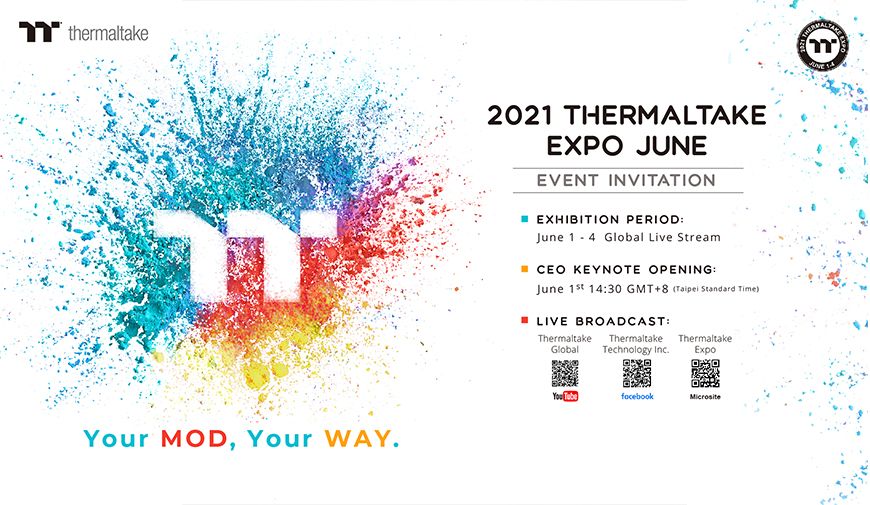 Taipei, Taiwan-May 26th, 2021- Thermaltake, the leading premium brand of PC DIY components for Cooling, Gaming Gear and Enthusiast Memory solutions, is back again to host the 2021 Thermaltake Expo June Virtual Exhibition. Thermaltake has prepared an incredible virtual show, featuring innovative new product designs, cutting-edge new software, and some surprising brand-new colors. From June 1st to the 4th, viewers can tune into our live stream broadcasts on the
Thermaltake Facebook Page
,
Thermaltake Global YouTube Channel
, and
Event Microsite
. The first three days will be broadcasted in English, and the last day will feature a Chinese live stream. Viewers are welcome to join in till the end to get the ultimate TT expo experience!
Your MOD, Your WAY
As we enter a new season, Thermaltake is ready to introduce a vibrant new color scheme to fan-favorite product lines. Thermaltake's new marketing idea "Your MOD, Your WAY" focuses on bringing our core audience - the gamers, modders, and PC DIY enthusiasts - more customization choices for their PC builds. Users can have fun mixing & matching their build with our new variety of color options.
Featured Programs & Giveaways
Kicking off the event is a CEO Keynote presented by the Thermaltake Founder & CEO Kenny Lin. Each day will begin with a New Product Launch from the Thermaltake team, showcasing the latest products and software. Following each product showcase are live stream sessions dedicated to Key Product Break-downs, interactive Q&As, Product Tutorials, and live PC Build Demonstrations. Most importantly, Thermaltake is giving back to our fans, and holding our largest giveaway to date. To learn more, stay posted on the Thermaltake social media handles.
2021 Thermaltake Expo June- Featured Programs
CEO Keynote Opening
• June 1st 14:30 GMT+8 (Taipei Standard Time)
• Join Thermaltake CEO Kenny Lin for the event kick-off and keynote speech where he'll reveal the latest products & software from Thermaltake.
Product Launch Premiere
• June 1st Begins after CEO Keynote
• June 2nd – 3rd 14:30 GMT+8 (Taipei Standard Time)
• Come along as we take you on a Virtual Quick Tour, following up with a New Products Showcase.
Product Discussion with Thermaltake
• June 1st – 2nd 19:00 GMT+10 (Australian Eastern Standard Time)
• Join in as we break down the most anticipated products from Thermaltake, and discuss the latest key features & designs. -Includes Live PC Build & Q+A
User Experience with Thermaltake
• June 1st – 2nd 13:00 GMT-7 (Pacific Standard Time)
• Explore the latest from Thermaltake; sit back as we demonstrate how to achieve the best user experience with our newest product features. -Includes Live PC Build & Q+A
Live Stream Platforms
•
Thermaltake Facebook Page
•
Thermaltake Global YouTube Channel
•
Event Microsite